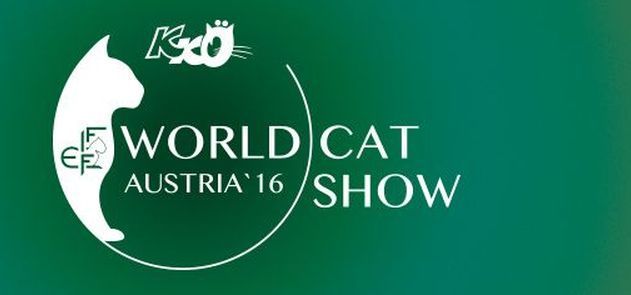 Frequently asked questions - answers

cages and placement
announcement and payment for my cat
confirmation of the anouncement
qualification requirements
veterinary requirements
during the show
--
cages and placement

How are the measurements of the cages on the WCS2016 ?

single cage 70 x 70 x 70 cm
double cage 140 x 70 x 70 cm

How will my cats be benched ?

Your cats will always be placed side by side.
If you show more than one cat the benching for even numbers is always in a doublecage.

Can I reserve a double cage ?

Yes, you can reserve a doublecage for a single cat (limited availabillity) and an additional fee applies.
This additional fee will not be automatically charged, please contact us under ws2016@kkoe.net.
There is no information necessary in case you announce two cats and want them in a doublecage, this is the standard benching procedure..

How the cages will be placed ?

The cages will be configured in rings.
The exhibitor have a protected area where they have exclusive access. The visitors see the cage from the backside.

Which sequence for the cages will be used ?

The main criteria is the FIFe member club and within a club according to benching requirements from exhibitors.
Requests for special benching be considered if possible.

Can I choose a cage neighbour ?

Please write this benching request in the commennts field during announcement.
Requests for special benching be considered if possible.
Can I use my own cage?

The use of own cages or sturdies is not allowed, sorry.

announcement and payment for my cat

When the announcements will be closed ?

You can announce until September 30th, 2016.
Announncement only accepted via our online portal.

Can I change the information of my cat ?

Yes you can until September 30th, 2016.
Starting October, 1st the data will be frozen. Change of classes please announce by email to ws2016@kkoe.net.

How much the announcement costs ?

The fee for cats in all classses is 59.- €.
The fee for a doublecage for one cat is additional 59.- €.

Until when I have to pay ?

Latest until September 30th, 2016 to our account or using Paypal.
Payments at the entry are not allowed.

How I can pay ?

You can transfer the inscription fee of 59.- € to our account BIC:BKAUATWW IBAN: AT67 1200 0006 3115 7500 Owner: Klub der Katzenfreunde Oesterreichs.
Please make sure no deduction of additional charges. Attention SEPA transfers from countries which have the Euro not as their currency may not free of charge.
You can pay with your credit card using PayPal, the inscription fee is then 62.- € including all charges.

Can I cancel an announced cat ?

Yes, you can do that until September 30th, 2016.
You see all your announced cats in the online listview. If you click the red cross on the right side of the cat, you can remove your cat after confirming that you want to cancel this cat.
Starting October 1st this possibility is ceased.

Will I get a refund of the inscription fee ?

If you already payed and not show any other cat please inform us via ws2016@kkoe.net in order to refund your innscription fee.
No refunds starting October 1st.

confirmation of the anouncement

How your club confirms the announcement ?

Starting October 1st we will contact your club and send a list of all announcements of members of this club.
Your club confirms then your active membership as well as the qualification requirements to the worldshow.
You can already inform your club about your announcement and send necessary papers.
A positive confirmation will be visible in the online overview about your anounced cats.

Will I receive a announcement confirmation ?

Your cats are confirmed if all the payments are done and all cats are confirmed by your club (you will see to green buttons in the respective lines in the cat overview).
You will not get a written confirmation, anyhow you can print out the overview page. There is no need to show this printout at the show entry gate.

Until when I should send all certificates which allow the entering of the worldshow to my club ?

All necessary papers shall be sent to your club until September 30th, 2016.
There is an exception for cats shown in class 12 and 11, where you can send the papers which allows you to enter the worldshow untl October, 24th.
Please be aware all cats must be announced until September 30th, 2016.
qualification requirements

Only cats of fully recognised breeds and house cats belonging to individual FIFe members can qualify for and may compete at the worldshow.
Participation in the worldshow is only possible for cats which have obtained a specific title OR achieved a specific qualification in the 13 months prior to the show.

Qualication in the 13 month period before the show OR ...

a. Kitten (class 12):
Best in variety OR Nomination to BIS OR 3x Excellent 1.
Kittens 4-7 months may participate in class 12 at the worldshow, if they have achieved at least 1x Excellent 1. This qualification is valid only in class 12.
b. Juniors (class 11):
Best in variety OR Nomination to BIS OR 3x Excellent 1.
c. Adults (classes 1 – 10):
Best in variety OR Nomination to BIS OR each adult cat that qualified in the kitten class or in the junior class.
d. Housecats (class 14):
Nomination to BIS Housecat.

...OR achievied one of the following titles

International Champion, International Premior or higher resp. for housecats the title Distinguished Show Merit (DSM).

veterinary requirements

Which vaccinations my cat shall have ?

A valid vaccination against rabies, feline panleucopenia, feline calici virus and feline herpes virus.
They need to have the required boosters, at least 15 days prior to the show.
The period of validity for the vaccination is marked by the veterinarian in the pet passport.

Which vaccinations needs and other requirements shall be fullfilled when I cross the boarder to Austria ?

We want to refer to the offical webpage of the federal ministry for health and females.
You find all neceessary information here.

Which certificats are required when I show a white cat ?

White cats must have a veterinary certificate stating that they are not deaf.
Audiometric tests preferred.

during the show

Who brings the cat to the judges ?

You bring your cat to the judge ring and place them in the marked cages.
From there stewards will bring and show the cats to the judge.

Are chairs available in the hall ?

We recommand to bring your own chair.
We are working to arrange chairs, which can be bbought at the show hall.

Where I can announce myself to participate at the worldshow dinner ?

The announcement will be opened in September 2016.
All exhibitors will be notified by email.

Are parking lots close to the hall available?

Yes, there is a garage with 541 places next to the show hall (parking fee 15,2€ per day).
Clearance 2,3 m.

Are parking space for trailers or caravans available ?

Yes, but limited availability.
Pls reserve your place at ws2016@kkoe.net and inform about the size of your vehicle (parking fee applies)
Are parking lots for disabled persons available (handicap id necessary) ?

Yes, but limited availability.
Pls reserve your place at ws2016@kkoe.net,