Tip 1
You have got a beautiful queen and want to have a litter with her.
The most important is the health.
Is the female at least 10 months old ? In general this is the age at which one shall start with breeding with the queen. It is sometimes possible that a queen might be mated with an earlier age, but this is due to medical reasons, and your veterinarian should have inspected the queen first and must recommend an earlier mating - such reasons might be f.e. that the female is coming into heat quite frequently within a very short time period.
Is your female large and robust enough ? A female should have at least a weight between 3,5 to 4 kilos, and should be well developed and should have a solid bone structure. Contact your veterinarian under any circumstances.
Contact also your club, which rules do apply for females.
The mere desire to have little kittens is not a good start for breeding !
Tip 2
You will need a stud male. Either you have already a male at home or you will have to mate your female with a stud male outside of your cattery. Get all necessary information about the stud male, the best is to contact your own club.
The stud male shall inherit good traits (f.e. no genetic defects).
The stud male must be of healthy constitution (f.e. must have all necessary vaccinations and tests).
The lines (those are the cattery names you'll find in the pedigree of the stud) shall harmonize with the lines of your queen.
Contact first your own club and ask first, which rules do apply for stud males.
The next stud male just close to where you live might not be always the best male !
Tip 3
Normally you have to pay a mating fee to the owner of the stud male. This mating fee varies from breed to breed, depends also on the titles a stud male might have, and differs quite a lot in the height of the price, sometimes between 300.-€ and 700.-€, but can be also higher.
Make a clear contract with the owner of the stud male, we recommend to make a written contract:
How high is the mating fee ?
When does the mating fee have to be paid ? After a successful mating, or in advance, etc.
Which vaccinations, tests are required for your female, and how many weeks old are they required to be ?
How often do you have the possibility to come for another mating, if the 1st mating was unsuccessful ? A serious breeder will permit you to come at least 2 times more for another mating with the same queen, or will refund the mating fee partly.
Do not make any arrangements with breeders, whom you do not really know for a long time, that you will exchange a kitten instead of the mating fee, either for free or for a lower price. You will avoid a lot of troubles.
If you absolutely think that you must make such an arrangement, separate the arrangement for the mating clearly from the arrangement that the owner of the stud male will have the first choice of a kitten instead of his mating fee. Make two separate contracts, one contract about the mating and the fee (pay the mating fee in any case), and one contract about the kitten the owner of the stud male shall get from your litter (make a clear and written contract with very clear conditions).
Tip 4
You need a cattery name, under which your kittens will be registered.
Apply for a cattery name at your own club before you plan to have your 1st litter.
In our clubs cattery names are permitted to be 17 characters long, special signs and punctuation signs included.
You may choose the cattery name by your own, but make sure not to choose any familiar name, mostly those names are already occupied by other breeders.
Please note also that all your kittens planned in future will be registered under this cattery name, you may not change the cattery name or get a new one.
As cattery names will be registered Fife wide, they need to be unique. You can check on the FIFe-website the already used names.
The cattery name shall be a well sounding name which can easily be remembered.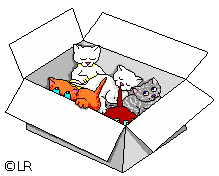 Tip 5
A female is pregnant between 63 and 65 days in average.
Note the date of mating and write it down, thus you'll be able to calculate the approximate day of birth.
Make all necessary arrangements in good time, that your female can deliver her kittens with confidence, such as a kitten box, clean blankets and towels, and a sufficient warm surrounding.
Do not become hectic or nervous, if the queen does not deliver her kittens on the 65th day, do not drag her to the veterinarian unnecessarily - it might happen that queens give birth between the 68th and 69th day. If the female appears to be healthy and in good mood, it is no reason for panicking.
During the pregnancy your female needs the best food you can get, she needs a peaceful surrounding without any stress. Leave the female in that environment which she is used to, do not be like a broody hen shielding her kittens off from everything.
Mostly it can be seen approximately in the 4th week, if a queen is pregnant, because the tits are coloured in a noticeable pink colour. So, you have enough time to see if the female is pregnant or not, you must inspect the tits every day, you do not see anything in the first 3 weeks.
Tip 6
Mostly the day of birth announces itself in advance.
The female starts to search for an appropriate accommodation for giving birth, f.e. she likes to enter your wardrobe, she searches for a whole, she gets evidently obtrusive and follow you wherever you go.
Simply watch the behaviour of your queen and you will notice that today is the day of birth.
Also make an arrangement with your veterinarian, just in case of emergency, that he can come to your home in time. Such cases of emergency are quite seldom, if your queen is healthy and robust and is kept in good environment.
Do not panic, because you have read so much in the literature and have heard so much from other breeders.
Do not become hectic and do not panic when your queen is giving birth, your queen knows very well by her nature what to do.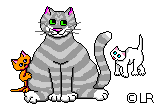 Tip 7
Announce the litter to your club with the appropriate age.
Announce the litter approx. with 4 weeks to your club, your club has a litter announcement. 'Unlicensed breeding' that does not pay, thus the fees for the pedigrees are too low.
You are only permitted to place cats, - kittens as well as adult cats, this is also valid for neuters - with a pedigree. The pedigree is like an official document of birth.
If you are uncertain about any colours or patterns of the kittens contact the breeding council of your club - it is their task to help you with colour determination, and your breeding council also has the necessary experience to do so.
Thus you can be sure that your kittens will get their pedigrees in time and will be included in the kitten corner.
Also notice that you can apply to include a breeding restriction on the pedigree of the kitten. Mark such a restriction on the formular for the litter announcement.
Tip 8
Do not place kittens before they are 14 weeks of age.
All that is based on very good reasons:
Thus it will be guaranteed that kittens will have all their vaccinations completed and will be fully protected (complete vaccination means 1st and 2nd booster !) with an appropriate age and will not be too young. The 1st booster alone of a vaccination is not sufficient to protect the kitten, i.e. the 2nd booster after 4 weeks is absolutely necessary to ensure that the full protection of a vaccination can come into effect.
Many kittens still suckle with an age of 10 weeks, the longer the better.
Kittens with an age of 14 weeks are also robust enough, i.e. have an appropriate weight. Kittens with less than 1,5 kilos are too small to be placed !
Tip 9
In our club kittens - as well as adult cats, this is also valid for neuters, are only permitted to be placed when having a health certificate, which must be issued and signed by an approved veterinarian.
The easiest way to get the health certificate is to ask your veterinarian to issue the certificate when you get your kittens vaccinated.
Why must our cats have a health certificate ?
This certificate is - like the pedigree itself - a certificate for a certain quality that certain basic inspections have been made by the veterinarian.
The health certificate is also for your own protection, in case there are things unclear or there are any troubles, if there are coming up defects or faults later on.
Do not hesitate that also the mandatory and recommended tests are made, as indicated on the health certificate. Fatalism or hiding the head in the sand is of no realistic use in the future and will damage the good reputation of your cattery.
It is not the main task of our club to control each for your steps or to issue more and more regulations, our main task and purpose is to be the consultant for your breeding programme and to assist you with the setup of a proper breeding plan, thus avoiding genetic defects and problems in your breeding programme. Do not hesitate to contact the breeding council.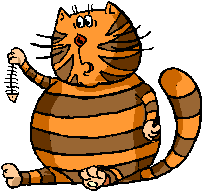 Tip 10
Which documents do you need when placing a kitten or cats ?
You must make a written contract with the new owner for each kitten you sell or place - this applies also for adult cats and neuters.
Cats can only be placed or sold with their pedigree. Any other arrangement with the new owner is not permitted and does not make any sense, because the fee for a pedigree is too low to deduct or justify any noticeable increasement of the sales price.
You are only permitted to sell or place cats, kittens and also neuters when they have a health certificate which must be given to the new owner. You keep a copy in order to be able to answer questions and have your papers in hand in case of differences with the new owner.
We recommand that you microchip your kittens before you give them to the new owner, so you can enhance the identification of the cats as well as to avoid misuse.
Cats are only permitted to be sold or placed when having the complete vaccinations, mostly those vaccinations are indicated in a so called vaccination passport. I.e. the new owner has the right to get this vaccination passport, but please keep a copy for your own records.